Main Content Starts Here
Kadiffa M.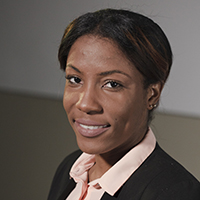 Medical Assisting
I love the medical field as a whole. My mother, she's a baby nurse, she's been doing it for, I would say, over thirty years.
I think being here and graduating and holding that title as an RMA I have a lot more respect for nurses and other medical assistants cause it is not easy.
My daughter thinks I am great. Her name is Jenny. She is proud of me. I came a long way and everything I do is for her cause I want her to know that it doesn't matter what you want to be in life, like you can be the best you can at anything.
Additional Testimonials in Healthcare / Medical