Main Content Starts Here
Dellel A.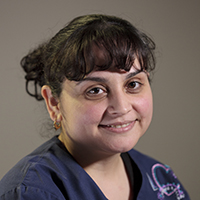 Medical Assisting
Before attending St. Paul School of Nursing I had three part-time jobs and I was barely making ends meet and I have a family, so it was really, really hard to keep it together.
What I do now I am a medical assistant. I'm a full time medical assistant.
I love helping people and meeting new people and I really do enjoy the doctors that I work for and I like going to work every day and I have one job versus three.
All my boys are on honor roll so they figured if I could do it, they can do it. So I hope that I have that influence on them because like if mom didn't give up I'm not going to give up.
Additional Testimonials in Healthcare / Medical