Main Content Starts Here
Chanda T.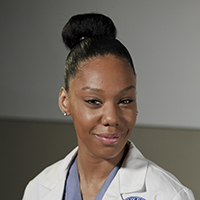 Medical Assisting
I got into the medical field because I love helping people. I love making people feel better.
At St. Paul's they don't just teach how to be a medical assistant; they also teach you how to be a phlebotomist, a EKG technician, CPR. They teach you so much more and it pushes you to just want to go more and more further with your career.
With going to school and working it was a challenge. It was tough, it wasn't easy.
I graduated at 27 with my Associate's degree and I'll be going back and I will be graduating in two more years as a registered nurse, so what can get better than that?
My family, especially with my achievements, they're happy, they're actually reaching out and they're so excited about what's happening for me.
They're happy I didn't just fall to the streets, they're actually proud that I picked myself up and I made a difference.
Additional Testimonials in Healthcare / Medical