Main Content Starts Here
Lee D.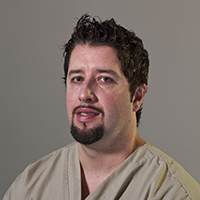 Lee D.
Associate Degree in Nursing
My wife is an RN, my father's an RN, my mother's an RN, so when I went to LPN school, you know, I did well in the school. I did well on the State exams, so they're like why don't you just keep going.
St. Paul's has made a difference in my personal life and my career because I have done something that I've always wanted to do but didn't have the time or it just wasn't in the cards at that very moment.
I tell my son that education's very important and that if you want to get a good job that you have to keep going to school.
Well, my wife, she really helped out like financially and she backed me up a lot because she's a nurse also, so she knows what goes into it.
Additional Testimonials in Nursing