Main Content Starts Here
St. Paul's School of Nursing Programs
Associate Degree in Nursing at St. Paul's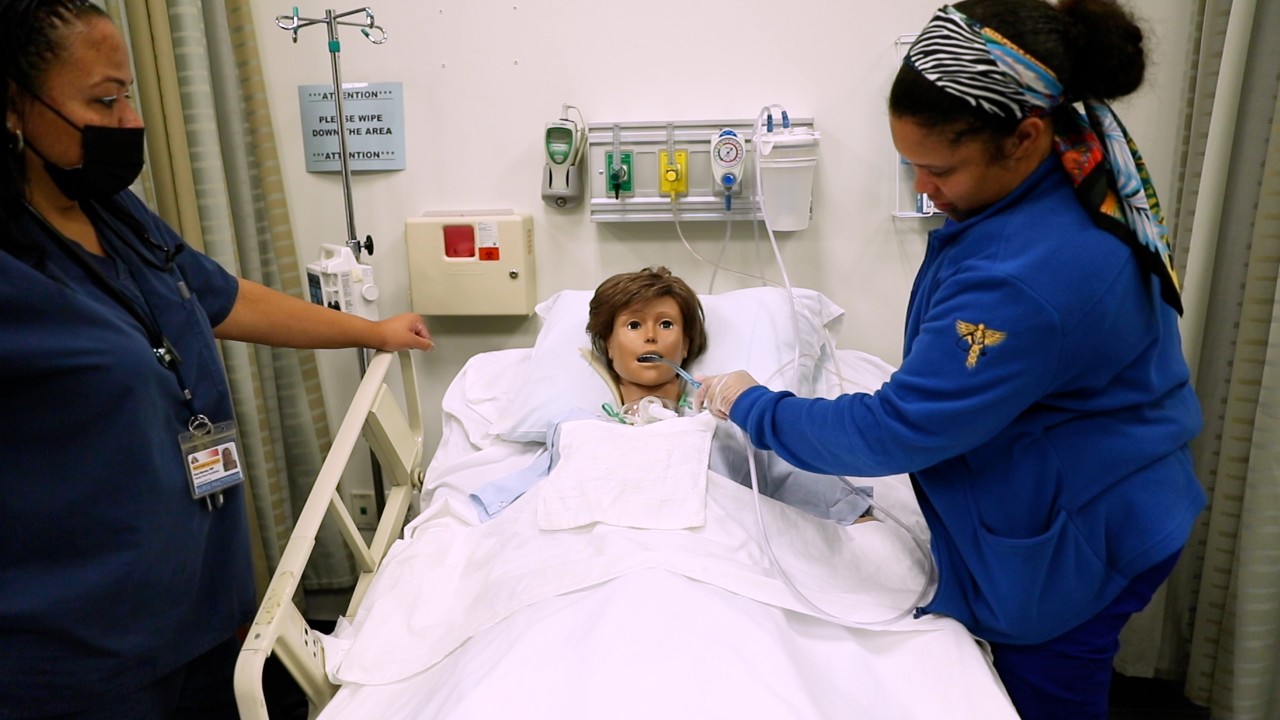 SPSON Associate Degree in Nursing Programs

If you want to become a Registered Nurse, then enrolling in and graduating from an ADN program at SPSON can put you on the career track you desire.
St. Paul's School of Nursing's Associate Degree in Nursing (ADN) program is designed to provide students with quality academic and clinical instruction. Our program educates students in response to society's continuing healthcare needs while developing lifelong learners and provides students with the knowledge and skills they need to sit for the NCLEX licensure exam. After graduation and passing this licensure exam, students can pursue a career as an entry-level registered nurse in a variety of clinical and hospital settings.
The ADN program can typically be completed over a 2-3 year period. The curriculum includes registered nursing courses, as well as liberal arts courses. The nursing component of the program includes clinical experiences with rotations in both inpatient and outpatient settings where students learn how to perform patient assessments and basic healthcare duties.
In addition to general education courses that include psychology and sociology, core ADN courses include:
Anatomy
Physiology
Microbiology
Nutrition
Fundamentals of Nursing
Advanced Medical/Surgical Nursing
Nursing Pharmacology
Students also learn about emergency care procedures and the legal requirements for medical personnel.

Careers for Registered Nurses
There are many career options for registered nurses. RNs provide and coordinate patient care, educate patients and the public about all types of health conditions and provide advice and emotional support to patients and their families. Through their work settings and experience, RNs can specialize in several areas, such as surgery, pediatrics, geriatrics, oncology, diabetes management, and mental health. They may also work to promote general health through public education and outreach programs.
Graduates of our ADN program may pursue various nursing positions in a variety of healthcare settings. Job titles for those with a nursing degree may include:
Registered Nurse (RN)
Emergency Department RN

Oncology RN
Operating Room RN
Public Health Nurse (PHN)
School Nurse
Staff RN
According to the U.S. Bureau of Labor Statistics, job opportunities for RNs are expected to increase over the next several years.

The Next Step
An associate degree in nursing (ADN) provides you with a strong foundation for a successful and rewarding career in the healthcare field, opening up many opportunities for employment in entry-level positions across a variety of settings.
Contact us today to speak to an admissions advisor to learn how our associate degree in nursing programs can prepare you to sit for the NCLEX-RN exam to earn your licensure as a registered nurse in less time than you might think.
Offered in the following locations
Programs vary by state and campus. Not all programs are offered at all locations. Contact local campus for accreditation information.